27010547
http://lawyers.pfawl.org/
Vanessa L Albaum
727-573-2622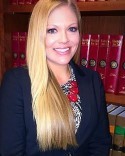 About Vanessa L Albaum
Ms. Albaum received her undergraduate degree from the University of Central Florida in 2005 and her law degree from Florida Coastal School of Law in 2011. She was admitted to the Florida Bar in 2011.  Ms. Albaum served over three years as an Assistant State Attorney in the Fourth Judicial Circuit in Duval County, Florida and the Thirteenth Judicial Circuit in Hillsborough County, Florida. While... read more »
Biography
Ms. Albaum received her undergraduate degree from the University of Central Florida in 2005 and her law degree from Florida Coastal School of Law in 2011. She was admitted to the Florida Bar in 2011. 
Ms. Albaum served over three years as an Assistant State Attorney in the Fourth Judicial Circuit in Duval County, Florida and the Thirteenth Judicial Circuit in Hillsborough County, Florida.
While with the State Attorney's Office, she focused on the prosecution of career criminals and tried more than 25 jury trials, charges included attempted murder, armed robbery, and carjacking.
In August of 2014, Ms. Albaum was the recipient of the Distinguished Service Award presented by the Florida Council on Crime and Delinquency.
She is a member of the Florida Bar Association-Young Lawyers Division, Saint Petersburg Bar Association, Pinellas Association of Criminal Defense Lawyers, and Pinellas Florida Association for Women Lawyers.
Contact Information
Hebert Law Group
Clearwater
, FL
33760
www.hebertlawgroup.com
Phone Numbers:
Office:

727-573-2622

Fax:

727-573-2786
Practice Areas
| Area of Practice | % Focus |
| --- | --- |
| Criminal Defense | 100.00% |
Credentials
Bar Licenses
| State | Status | Year Acquired |
| --- | --- | --- |
| Florida | Member in Good Standing | --- |
Send an Email to Vanessa L Albaum
If your situation is urgent, consider calling this attorney instead of sending an email:
Phone: 727-573-2622